Peanut Color Sorter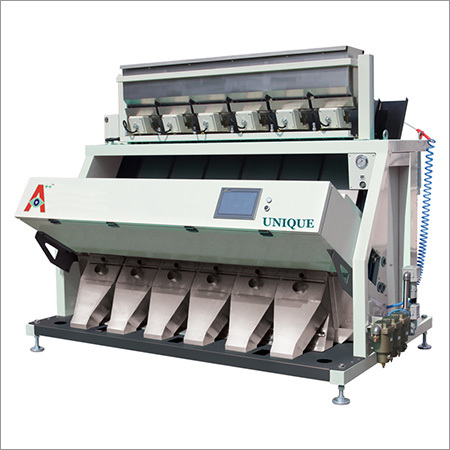 Peanut Color Sorter
Price And Quantity
1000000.00 - 5000000.00 INR
Product Description
Under precious guidance of our skilled professionals, we are engaged in trading and supplying a wide range of Peanut Color Sorter. Owing to its remarkable quality, the offered sorter is highly applauded by our clients due to their trouble-free functionality, exceptional throughput, low damage ratio and simple installation. The provided sorter is broadly demanded in many food processing industries to remove impurities from peanuts. Moreover, the offered sorter checked by our vendors professionals on various quality parameters to provide a flawless dispatch. Our valuable customers can avail this Peanut Color Sorter from us at market leading prices.
Unique trough configuration
It uses a special anodizing technology for production volume and conformity with the international standard. Cascade plate and narrow chute channel in the machine meets the material's color sorting.
Ejector
It has High-quality and high-frequency ejector. Solenoid valves of varied sizes to suit varied sizes and characteristics of material particle.
Color high-resolution CCD image acquisition system
This color sorter has a color CCD image acquisition system for acquiring information of red, green and blue color. The sensory ability same of human eye and allows better selection of material. With 0.15mm maximum resolution, it can identify small defects and spots on raw materials precisely. Clear image is provided by the high-precision special lens.
Configuration of flexible and variable light source
An integrated Led lighting system. The light source can be customized based on different raw material.
Best rejection rate (with a ratio)
Best elimination rate is possible with an advanced image acquisition system, nozzle system and image processing algorithms.
Image processing algorithm
Materials characteristics describe the shape and color combination algorithm. The complex color material can be sorted using HSV-changed color space sorting method.
Easy to learn and use
The machine's operations are easy to learn and use for its auto correction system, human machine interface and simple optical system design.
Specifications
Model

Product Output (t/h)

Sorting Accuracy
(%)

Optimized Carryover (Bad:Good)

Weight (kg)

Resolution (mm2)

Power (kw)

Dimension
LWH(mm)

Power
Supply (V/Hz)

6SXZ-126

0.5~2.5

99.9

8:1

617

0.04

1.4

1337x1640
x2015

220/50(110/60)

6SXZ-84

6SXZ-189

1.0~4.0

99.9

8:1

748

0.04

1.8

1651x1640
x2015

220/50(110/60)

6SXZ-126

6SXZ-252

1.5~5.0

99.9

8:1

890

0.04

2.2

1956x1640
x2015

220/50(110/60)

6SXZ-168

6SXZ-315

2.0~6.0

99.9

8:1

1043

0.04

2.6

2279x1640
x2015

220/50(110/60)

6SXZ-210

6SXZ-378

2.5~7.0

99.9

8:1

1170

0.04

3.0

2593x1640
x2015

220/50(110/60)

6SXZ-252

6SXZ-441

3.0~8.0

99.9

8:1

1281

0.04

4.5

2976x1509
x1945

220/50(110/60)

6SXZ-294

6SXZ-630

3.5~9.0

99.9

8:1

1792

0.04

6.0

22742824
2190

220/50(110/60)

6SXZ-420

6SXZ-756

4.0~10.0

99.9

8:1

2134

0.04

8.0

25502824
2024

220/50(110/60)