Industrial Color Sorter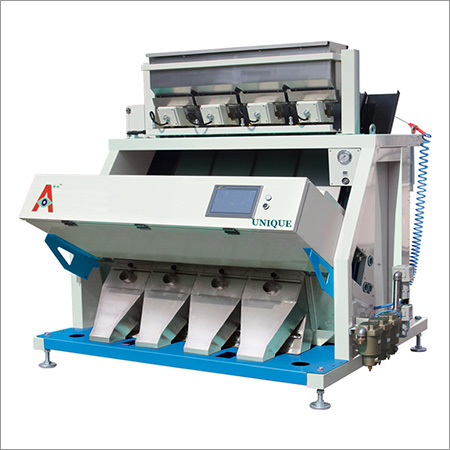 Industrial Color Sorter
Price And Quantity
1000000.00 - 5000000.00 INR
Product Description
As an esteemed name in the relevant industry, we are trading and supplying a precision-engineered array of Industrial Color Sorter. These sorters are widely used for separating impurities from food grains, such as peanut, rice, beans etc. Following industry defined guidelines, provided sorter are manufactured with the aid of ultra modern technology by vendors experienced professionals. Offered sorter are highly praised by its features like power efficient, low maintenance, sturdy structure and highly durable. Moreover, clients can avail the offered Industrial Color Sorter from us at market leading prices within given span of time.
Color high-resolution CCD image acquisition system
Color CCD image acquisition system acquires all information of three different colors and that are red, green and blue. Its sensory ability matched to the ability if a human eye and makes better selection of material. With max. resolution of up to 0.15mm, this sorter can even identify the small defects and spots on Raw materials accurately. The high-precision special lens give clear images.

Image processing algorithm
Shape and color combination algorithm matching to the characteristics of material.
Material with complex colors can be sorted directly and accurately via HSV-changed color space sorting method.

Flexible and variable light source
Energy efficient and high performance Led lighting system with longer service life.
Light source can be customized in order to adjust the spectra according to raw materials requirement.

Unique trough configuration
Special anodizing technology for achieving high production volume. The narrow chute channel and cascade plate integrated in the machine allows color sorting for various materials.

Ejector
Ejector imbedded in the machine is of high quality, has high-frequency, longer service life and consumed super low air. Solenoid valve of any size can be selected based on the size and characteristics of material particles.

Easier to learn and use
What makes this machine easier to learn and use is its simple optical system design, auto correction system and human-machine interface. This interface simplifies the complexity of machine commissioning and use.

Commendable rejection rate (with a ratio)
Commendable elimination rate is possible because of an advanced image acquisition system, nozzle systems ans image processing algorithms.

Specifications
Model

Product Output (t/h)

Sorting Accuracy
(%)

Optimized Carryover (Bad:Good)

Weight (kg)

Resolution (mm2)

Power (kw)

Dimension
LWH(mm)

Power
Supply (V/Hz)

6SXG-126

0.5~2.5

99

8:1

617

0.04

1.4

1337x1640
x2015

220/50(110/60)

6SXG-84

6SXG-189

1.0~4.0

99

8:1

748

0.04

1.8

1651x1640
x2015

220/50(110/60)

6SXG-126

6SXG-252

1.5~5.0

99

8:1

890

0.04

2.2

1956x1640
x2015

220/50(110/60)

6SXG-168

6SXG-315

2.0~6.0

99

8:1

1043

0.04

2.6

2279x1640
x2015

220/50(110/60)

6SXG-210

6SXG-378

2.5~7.0

99

8:1

1170

0.04

3.0

2593x1640
x2015

220/50(110/60)

6SXG-252

6SXG-441

3.0~8.0

99

8:1

1281

0.04

4.5

2976x1509
x1945

220/50(110/60)

6SXG-294

6SXG-630

3.5~9.0

99

8:1

1792

0.04

6.0

22742824
2190

220/50(110/60)

6SXG-420

6SXG-756

4.0~10.0

99

8:1

2134

0.04

8.0

25502824
2024

220/50(110/60)

6SXG-504
Trade Information
Wooden Packaging

All India